Custom Interiors
We supply and fit standard ply lining kits, or we can work with you to design an interior that matches your personal specification.
Security of your vehicle is paramount, so we supply and fit specialist dead locks and slam locks givig you peace of mind and convenience when your vehicle is left unattended.
If you need a towbar, we know how to fit to Volkswagen standards and comply with essential wiring requirements of the VW engine management systems.
Filter Category
Filter by category
Motexion Kombi Bulkhead Made to fit behind the second row of seats. If ply lined this will have to be removed and cut to shape + £25
T5 & T6 Kombi Racking can be made to your specification. This photo is of a folding bulkhead
This photo is of a fully carpeted folding / removable bulkhead . The top section of the bulkhead folds down to the same hight as the folded dual seat. optional long load flap £75 +vat
Cab side of folding bulkhead (carpeted)
T5 & T6 KOMBI CARPET SETS SWB New ply = £545 Existing ply = £395 LWB New ply = £595 Existing ply = £445 All ply panels ie: Side doors , rear doors / tailgate , N/S & O/S panels
T5 & T6 ROOF CARPET SWB £145. LWB £165 Prices are fitted + vat
Optional to Kombi Carpet Set wheelboxes with 100mm upstands £95
T5 / T6 Kombi Carpet Set 2
'Dedicated' Communicate with the vehicle engine management unit (ECU). 'By-Pass' Wired in the original way using a by-pass unit. will not communicate with the vehicles ECU . 13 Pin electrics: By Pass + £25 Dedicated + £35.
T5 & T6 Storage wheel box made from 12 mm Ply with a 40 mm lip. Fully assembled and painted to match factory panel. Will fit SWB & LWB single & dual sliding doors. Price £95 + vat each side
Crafter top ply sections £95 + vat fitted
Crafter Polycarbonate lining £445 + vat (supplied & fitted)
LWB T5 Carpeted ply panels including tailgate = £595 (fitted) + vat Roof carpet lining = £165 (fitted + vat Rear aperture carpet £100 fitted + vat)
Roof carpet Caddy £125 Maxi £135 T5 SWB £145 T5 LWB £165 All prices are fitted + vat
T5 Kombi stripped ready for insulation & carpeted ply panels.
T5 Kombi van carpeted ply panels including side doors and tailgate. SWB = £545 + vat LWB = £595 + vat
T5 Kombi Carpet sets £545 swb £595 lwb + vat Fitted price includes new ply panels to sides, side doors, tailgate .
Literature holder made from 9mm ply and fixed to bulkhead £195 + vat
Carpeted shelves made from 12mm ply and fitted to O/S rear panel of SWB Kombi £POA
T5 folding bulkhead including long load flap, carpeted both sides.
T5 side step wooden floor infill £95 + vat
T5 Kombi quilted leather seats £POA Carpeted folding bulkhead behind.
T5 folding bulkhead with o/s racking
T5 Half height 18mm ply bulkhead £95 +vat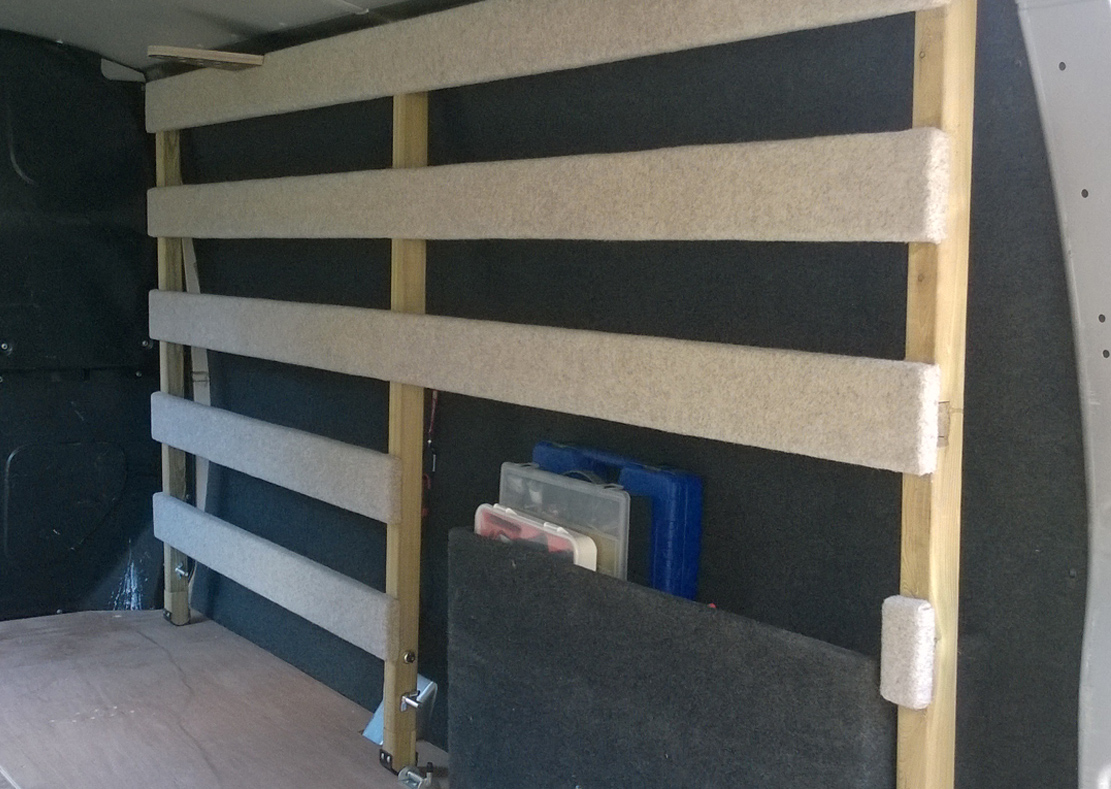 Fold away adjustable internal frail used for carrying 8' x 4' panels etc on edge leaving vital floor space.
Adjustable int frail in use : Price £395 + vat
LED Strip lighting. Powered direct from battery or leisure battery . Can be switched independently or one main switch. Price : £125 + vat fitted + £39 each for more.
Bespoke Kombi removable shelves and carpet lining
T5 Long load bulkhead cut out and drivers seat base box £150 + vat
T5 Long load bulkhead cut out and drivers seat base box and 18mm work bench £395 + vat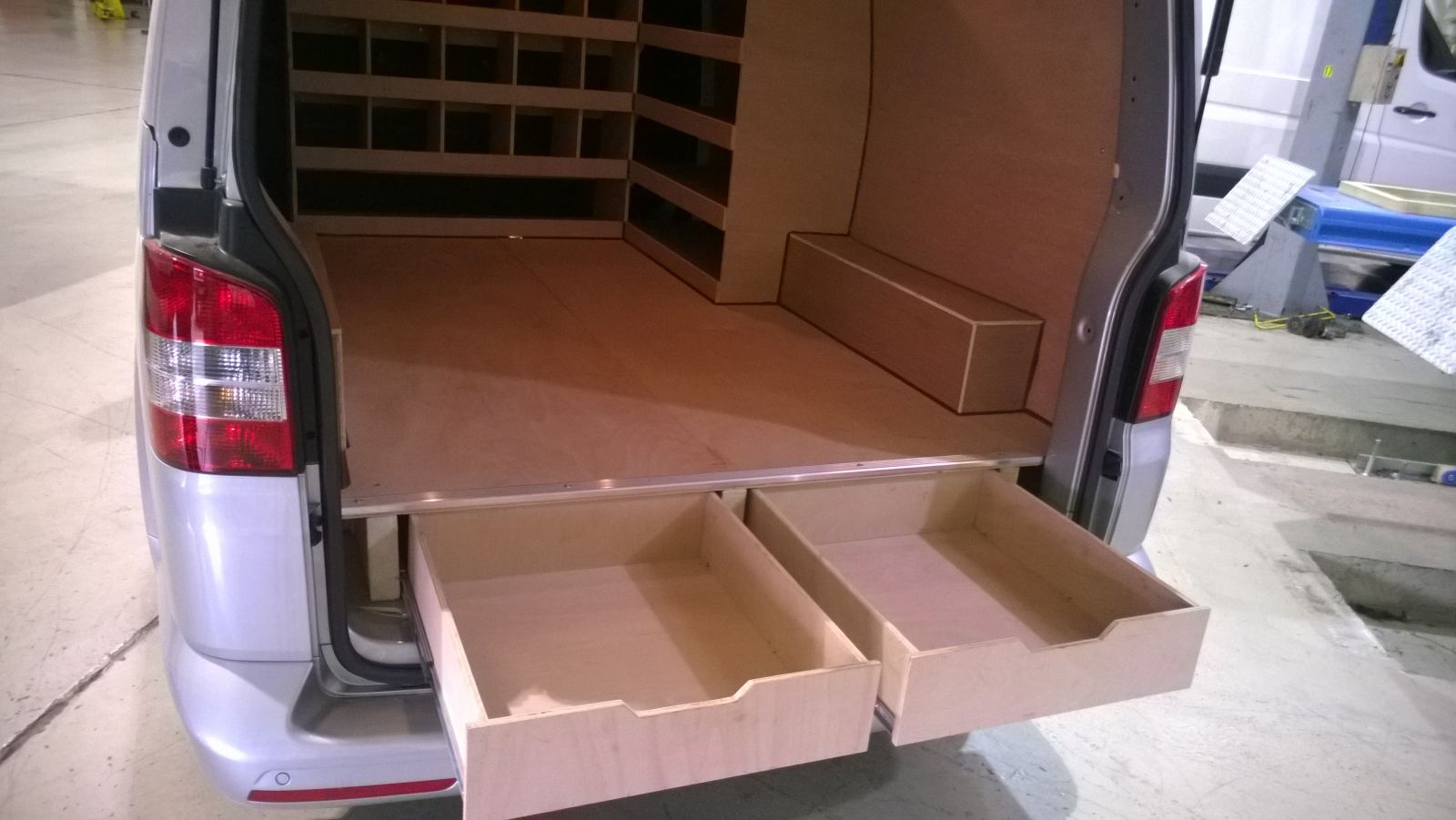 False floor / Racking and pull out draws.
Transit Custom Racking £395 +vat
Caddy Maxi Kombi Bespoke Racking
T5 LWB Racked out to customers spec for smart repairs. (1)
T5 LWB Racked out to customers spec for smart repairs. (2)
T5 LWB Racked out to customers spec for smart repairs. (3)
Ply Lining (Std van) fitted £165 + vat Ply Lining (Maxi) fitted £195 +vat
Caddy van racking can be built on top of the wheel boxes and to your spec. Photo is of a bespoke build for a cleaning contractor based on a used Maxi Kombi. Prices POA.
Fixed or removable 18mm ply bulkhead fitted behind side sliding door. Price £225 +vat
Fixed or removable 18mm ply bulkhead fitted behind side sliding door. Price £225 +vat
50 mm slab Insulation fitted to all load doors and sides behind ply panels Price £95 + vat * Photo is of T5. Caddy to follow *
Caddy Carpet Set New ply kit , carpet fitted to side door, side panels, rear doors and wheel boxes. £475 +vat
This photo shows the inside of the 6 optional upstand
Caddy Maxi bespoke racking £195 +vat per side
Caddy Maxi Kombi Bespoke carpeted ply panels and wheel boxes with 4\ up stands £475 Carpeted roof panels £135 LED lighting in place of std int lights £125 Carpeted rear aperture £85 Rear speakers £125